Mineral Accents

Mineral Accents are materials offered by Jewelry Material Innovations, Inc. (JMI) in a variety of colors for adding accents, or enhancements, to jewelry settings. They are prepared from large pieces of colored cubic zirconia (CZ), corundum, spinel, rainbow and specular hematite, and other minerals by a proprietary process that yields particles suitable in shape and size for inlaying into jewelry settings. The particles exhibit high reflectivity and sparkle because of the many facets created by the proprietary fracturing process. They are available in a wide range of beautiful colors that span the visible spectrum. JMI recommends that they be inlaid into recessed regions of jewelry (similar to the champleve' process for enameling) so that the sides of the recessed regions provide protection against abrasion. Two methods for attaching Mineral Accents to jewelry settings are described in JMI's information sheet, "Instructions for Attaching Mineral Accents to Silver Clay Settings." (Refer to the link to the information sheet above.)

Depending on their composition, Mineral Accents respond differently to the high temperatures required to fire silver clay. Many retain their original color when fired to 1650°F for 30 minutes. Some Accents change color when fired to 1500°F or 1650°F. The color stability of Mineral Accents should be evaluated by the artist by heating a small sample to the temperature/time combination at which the attachment is to be made

You can use the lustrous sparkle of Mineral Accents in colors of your choosing to create strikingly beautiful effects in both silver and gold jewelry. For example, they can add a customized drusy look to your jewelry. They are more affordable than color-coated druse specimens, do not require forming your jewelry around pre-shaped cabochons, and are available in a wider range of colors. Also consider using complementary colors in a setting, such as Purple Gold and Rainbow Hematite. Mineral Accents will challenge your artistic imagination and provide you with a distinctive and unique medium with which to set your jewelry apart from the norm.

Mineral Accents can also be applied to sterling silver settings. If a method of attachment is selected that involves heating the setting above about 840°F (450°C), undesirable fire scale may form that will require subsequent removal by pickling or polishing. Depletion gild the sterling setting before using any method that requires a high temperature, which will eliminate the need to remove fire scale afterward.
Silver Clay Pendants with Mineral Accents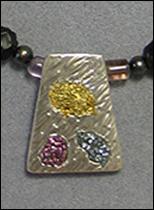 Green Spiral
Mineral Accent

Multi-Color
Mineral Accents
Empress Ring w/Purple Gold
(Art Jewelry Magazine, Sept. 2005)

Tri-Color
Mineral Accent