Accent Purple Gold™
As featured in the September 2005 issue of Art Jewelry magazine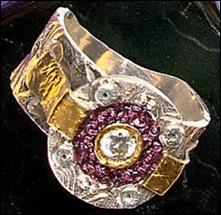 Accent Purple Gold™ is a most unusual precious metal for adding a purple-colored accent to all types of fine jewelry. Accent Purple Gold™ has found applications in silver jewelry as artists develop new ways to use it to accent their designs. One such application appeared as an instructional project by Hattie Sanderson titled "Empress Ring" in Art Jewelry magazine. Accent Purple Gold™ is a solid 18K intermetallic compound comprised of pure, 24K gold combined with other metals. Its color is natural and permanent and not the result of any type of surface coloration such as dyeing, oxidation, or application of a chemical coating. The purple color results from strong reflection of incident light in the red and blue wavelengths, which the eye interprets as purple. While Accent Purple Gold™ is difficult to manipulate using traditional metallurgical techniques because of its brittle nature, it offers creative possibilities in flake form. Accent Purple Gold™ is supplied in the form of flakes and larger pieces that reflect sparkling purple light from individual facets.

Accent Purple Gold™ is especially amenable to inlaying into recessed regions of jewelry designs, which is recommended because the sides of the recessed region provide protection against abrasion and loss of flakes. Artists have developed various methods for attaching Accent Purple Gold™ to jewelry. Two methods for attaching it to jewelry settings are described in the information sheet, "Instructions for Attaching Mineral Accents to Silver Clay Settings." (Refer to the link to the information sheet above.) Note: Firing at temperatures above 650C (1202F) must be avoided because the particles will darken and lose luster.

Whether you use Accent Purple Gold™ on fine silver, sterling silver, or yellow gold jewelry, this unique material will challenge your artistic imagination and provide you with a distinctive medium with which to set your jewelry apart from the norm. Have fun exploring creative ways to use Accent Purple Gold™ in your jewelry designs!