Clay-Bond Plus™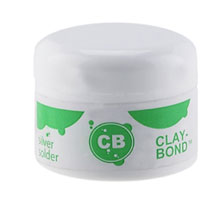 Clay-Bond Plus™ is a silver-containing solder that is used to join silver, bronze, copper, and brass articles. It is a powder that contains not only silver, flux, and other proprietary ingredients, but also a binder. When it is mixed with water it forms a paste that is used to lightly cement articles together in a desired configuration before heating the paste to accomplish the join. This ability to hold the items to be joined in a desired configuration is a unique feature because the items do not need to be held in position by external means, such as by hand, a fixture, or jig. Clay-Bond Plus™ is used to join sterling silver and fine silver to pre-fired silver clay articles, as well as to join articles made from BRONZclay™, COPPRclay™, Argentium™, copper, brass, and any combination of these metals. Because the items to be joined are held in place by the dried paste, many articles can be pre-arranged before heating so that soldering can be done in quantity. For example, a dozen pairs of earring posts can be joined to earrings in one easy operation quickly and easily without requiring skill with a torch or soldering iron.

Soldering is accomplished by heating in a kiln for a prescribed time, followed by air cooling. Alternately, and if desired, individual items can be joined by heating with a torch. After firing the solder forms a strong joint suitable for all jewelry-related applications.
Advantages of
Clay-Bond Plus™
over conventional solder pastes include:
Firing can be done in a kiln, so a torch and open flame are not required. Skill in soldering is not necessary.
It contains a binder that dries and holds the two pieces together before and during firing, so maintaining precise alignment of the pieces is easier than with solder paste.
It will not spread beyond the join and wet surrounding metal if fired properly.
When used to join sterling silver, it is impossible for fire scale to form on the sterling.